"More Than Honey" in "DIAS" Kefalonian Organic Way - Only by appointment ! Please contact before !
Walk Through a Honeybee Hive with a Local Beekeeping Expert. Don a suit and head into an apiary, where you'll see an open hive and hold a frame of live bees; conclude your visit with honey tastes.
In 2 - 3 hours, you'll see what a honeybee experiences over the course of a lifetime, and what a beekeeper experiences over the course of a day. Of course, if the weather permit it.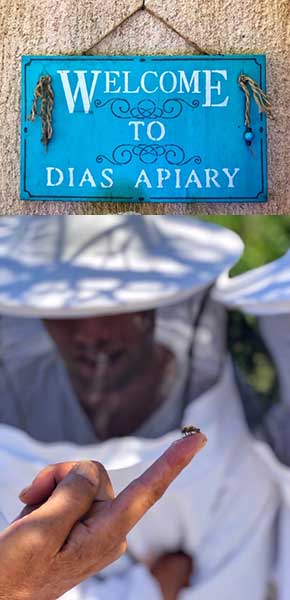 Suit Up
After donning a provided beekeeper suit, you'll step inside an apiary, where Eleni or Thanassis will open active hives . Bring a camera if you'd like a picture of you with frame in hand.
Look Inside a Glass Observation Hive
While you gaze at bees inside a glass observation hive, your guide will share interesting facts about the bee's life.
Have a Taste
Visit the laboratory. Depending on the season and the hives' productivity, you might help extract and taste fresh honey, or collect fresh royal jelly or pollen. If the bees come up empty that day, you'll attend a tasting of local honeys instead.
At the end
We will treat you a snack "of the beeman" with Herbal Tea, Fresh Juice, Coffee, Local Wine, Walnut Pie, Pasteli, Cheese Pie.
Location : Domata – Livathos – Kefalonia, Dates : 1/4 – 31/10, Hours: 10:00-18:00, Duration : About 2 -3 hours, Price p/p: Adult € 30.00, Children (10-14 years) € 18.00 (VAT not included)
Each tour can be arranged only by appointment. If you want to participate to the next bee tour at Svoronata Kefalonia, please phone or email.
--Opportunity to buy our bee products – when available.
--People who would rather not wear a beekeeper suit, should at least wear long pants and a long-sleeved shirt.
--Each tour is limited to 8 participants. Each tour requires a minimum of 2 participants in order to take place