Certificated Organic Raw Fir Tree Honey from Kefalonia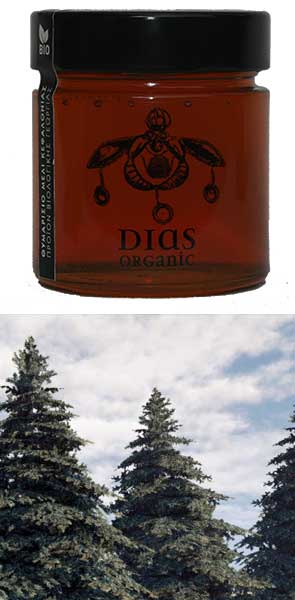 Εxceptional honey made from the honeydew produced by aphids feeding on the Cephalonian fir (abies cephalonica) as well as from the wild herbs of Ainos mountain; it is reddish in colour and quite thick. This honey is rich in minerals, proteins and amino acids and has fewer calories than other honeys.
We guarranty that all our honey is Organic, unheated, unfiltered, unpasteurized and we guarantee that it is a pure and nutritious raw honey.
The honey is packaged directly from the honeycomb and has a distinct amber colour.
Fir tree honey is the least sweet and its taste is unsurpassed.
Renowned for its antioxidant properties and high nutritional value, this honey, gathered from fir tree honeydew, is a burst of energy, a breath of life from the forests of the Greek countryside. A honey that almost never crystallizes and is ideal as a breakfast accompaniment, a snack when spread on dry wheat rusks and in hot beverages and tea among others.
Jars of 130, 290, 420, 780, 960 gr. Special packaging for weddings on demande.