"DIAS" Organic Bee Pollen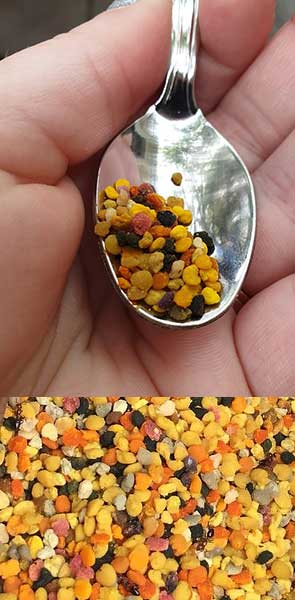 Bee pollen is a mixture of flower pollen, nectar, enzymes, honey, wax and bee secretions. Recently, bee pollen has gained traction in the health community because it's loaded with nutrients, amino acids, vitamins, lipids and over 250 active substances
What are the benefits of bee pollen?
relieve inflammation.
work as an antioxidant.
boost liver health.
strengthen the immune system.
work as a dietary supplement.
ease symptoms of menopause.
reduce stress.
speed up healing.
Bee pollen may have applications for treating and preventing cancers, which occur when cells proliferate abnormally. Test-tube studies have found bee pollen extracts to inhibit tumor growth and stimulate apoptosis — the programmed death of cells — in prostate, colon and leukemic cancers.
Since bee pollen is an unproven treatment, there is no standard dose. Some people use 1/8 to 1/4 teaspoon of bee pollen granules daily. They gradually increase the dose up to 6 teaspoons.