Certificated Organic Thyme Honey from Kefalonia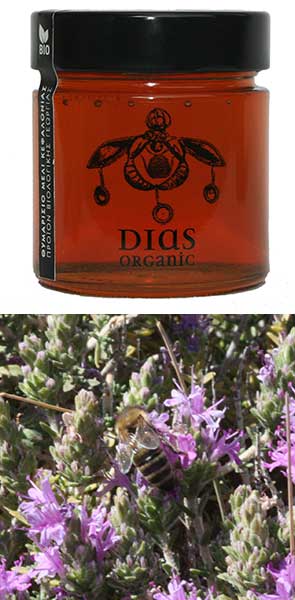 Wild thyme honey is probably the most classic Greek honey. Here is the famous thyme honey of Kefalonia. Its intense, aromatic flavor lends it to a wide range of culinary uses.
Certified organic, original thyme honey, produced by the most well taken care beehives by people who work with patience and love.
We guarranty that all our honey is Organic, unheated, unfiltered, unpasteurized and we guarantee that it is a pure and nutritious raw honey. The honey is packaged directly from the honeycomb.
Nutrition Facts:
Wild thyme honey is a superior quality product, as it is considered the finest and most renowned honey of Greece. It has strong antiseptic value, as well as benefits for the upper respiratory and digestive tracts.
Thyme is one of the best antiseptic and tonic herbs and probably the plant with the most beneficial properties. It contains essential oil, of which the main ingredient is thymol (above 25%). Thymol is antiseptic and was a predecessor of the modern antibiotics. Thyme's extract:
– can, among others, prevent colds, intestinal disorders and skin infections
– is antispasmodic of digestive tract, helps digestion and calms the nervous contractions of the stomach and bowel
– helps reduce stress and mental depression.
Jars of 135, 290, 430, 780, 960 gr. Special packaging for weddings on demande.